How safe is your home?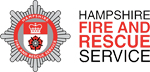 Hampshire Fire and Rescue Service want to make you and your home safer so they have put together a questionnaire which will assess fire safety in your home.
Once you have completed the questionnaire, you will get a personalised fire safety plan, which will offer advice on how to prevent fires in your home and how to remain safe.
Complete the questionnaire here:
For more helpful information and safety tips please visit the Hampshire Fire and Rescue Service Official Website: