The Safer Havant Partnership understands the importance of finding out what young people think about community safety issues in their local area and regularly takes part in the fun activities taking place throughout the borough, such as the brilliant annual Play Day event.
You can see this page to find out what is available for young people in Havant Borough and how under eighteens can get involved, get their voices heard and make a real difference in their local area.
Safe Haven – open to all young people 11-17 years old living within Havant Borough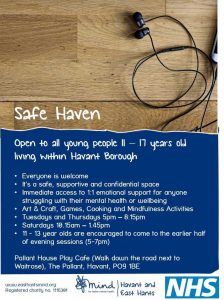 There is also information for parents and young people on the following website:
Stay Safe Online
Technology has become integral to young people's lives and it is important that they know how to stay safe online and make the most of the opportunities that the internet provides. Whether you are a young person, parent or carer, or working with children, The Safer Internet Centre has lots of resources to help raise awareness and reduce the risks.
It is also important for parents and teachers to be aware of how to keep our kids safe online.
Hampshire Constabulary's Police Apprentice competition 2016 tasked secondary schools to design a peer to peer campaign to tackle the increasingly concerning issue of young people sending nude and sexualised pictures online. Robert May's School, Odiham produced the winning concept which is a animation called 'Wildfire'.
The film includes a message of support for young people, both male and female, to speak with someone they trust to seek help if they encounter a situation where they are encouraged to send a naked selfie to someone.
Havant Junior Citizen
The Havant Junior Citizen event has been on the school calendar in Havant for more than 20 years, with 24 of the boroughs Junior and Primary schools attending. This event provides Year Six pupils (aged 10-11 years) thought provoking scenarios to raise awareness of community safety, with the importance of a being a good citizen and how to cope and stay safe in certain situations.
Motiv8
Motiv8 operates from premises at the heart of the communities they serve. Supporting young people through the good times and tough times but most of all being there when it matters.
Their Havant office is at The Hub, Greywell Precinct, Leigh Park
Tel: 0239247 0484
Hampshire Fire and Rescue Service Kidszone
Join the Fire Service's Fire Challenge Crew!  Learn more about a fireman's typical day and find fun quizzes, colouring in and interactive games!
Are you or a friend worried or have a problem?
ChildLine is a free confidential helpline for children and young people in the UK. You can talk to ChildLine about anything – no problem is too big or too small. If you are feeling scared or out of control or just want to talk to someone you can call them on 0800 1111.
ChildLine also has a great website where you can get lots of information and have some fun with interactive games and badge making.
Be Fearless
Fearless is the youth brand that introduces young people to the service provided by Crimestoppers.
Visit the Fearless website to get information about crimes that affect you and for the opportunity to pass on information about crime anonymously.
Hampshire Police and Crime Commissioner's Youth Commission
The Youth Commission provides the opportunity to be 'part of the solution' in tackling crime and policing issues that are of most concern to young people.
The Youth Commision consists of 25 members from across the county: the focus of their work is to identify what issues affect young people in their area, engage them and gather awareness at events and via campaigns. Members will also make recommendations for change to the Police Crime Commissioner and suggest solutions to their priority issues.