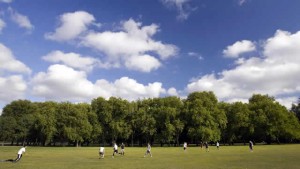 During the spring and summer each year the Council receives complaints about young people playing ball games in public places. In general, ball games are a fun activity for young people playing them and can be a source of disturbance for those who are not.
Unfortunately, this is something that cannot be changed. Young people have a right to play as well as a need to enjoy physical exercise and interact with other youngsters. Play is crucial in a young person's development and should be encouraged. However, on the other hand everyone has a right to enjoy their home quietly, protect their property and have their wishes respected by their neighbours.
The Borough features many open green areas that might seem ideal as a venue for a ball game. Many of these green areas are on housing estates and there is often only a small distance between greenery and residents front doors. It is easy to see why complaints are made. It is therefore essential that residents work together with tolerance and understanding to avoid problems associated with ball games.
The playing of ball games is not against the law and as a result the Council will not be installing "No Ball Games" signs as these are not enforceable. In the majority of cases the playing of ball games will not class as unacceptable or Anti-Social behaviour.