Tuesday 7th February
Technology has become integral to young people's lives and it is important that they know how to stay safe online and make the most of the opportunities that the internet provides. Whether you are a young person, parent or carer, or working with children, The Safer Internet Centre has lots of resources to help raise awareness and reduce the risks.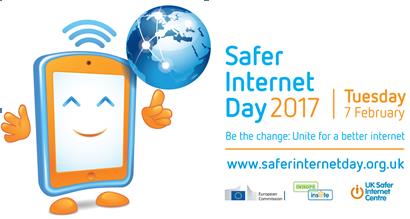 The Safer Internet Day is on Tuesday 7th February 2017 with the theme 'Be the change: unite for a better internet'.
Safer Internet Day is celebrated globally in February each year to promote the safe and positive use of digital technology for children and young people.
Coordinated in the UK by the UK Internet Safety Centre the celebration sees hundreds of organisations unite to raise awareness of online safety issues and run events and activities right across the UK.
As a result of the UK Internet Safety Centre's collective action Safer Internet Day 2016 reached 2.8 million children and 2.5 million parents!
For a few quick tips please also have a look at the following:
Six tips to keep young people safe on Social Media > (External Link)
Five tips for parents introducing your family to YouTube > (External Link)
Find out about the social media your child is using at Net-aware > (External Link)