Enterprising Day 2016
On Monday 18th April a Year 8 Enterprise day was held at The Hayling College. These days are designed to highlight the skills that employers want in the workplace and encourage young people to use them with a specific focus for the day.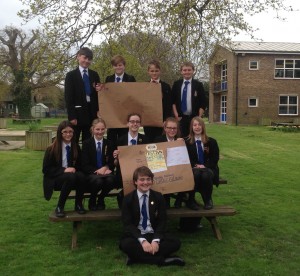 The Hayling College is part of a Community Alcohol Partnership that works with local businesses, and the Police to prevent young people behaving in an anti- social manner through abuse of alcohol, and to be aware of its effects. The task for the Year 8s was to create a diversionary activity for their age group on the Island, that was sustainable, cost effective and designed to give young people something more beneficial to do than behave irresponsibly. The day was particularly realistic because the national CAP group donated £500, so that the wining activities can actually take place.
The groups were judged in a 'Dragon's Den' style finale by representatives from the Council's Neighbourhood Quality Team,  Active Communities Network and Helen Cox the Director of Hayling College Lower School. The standard was so high that two groups won and are now working away at delivering their ideas. Team members commented that "I think we had good communication and we worked together as a team", "I enjoyed Enterprise day because it's given us knowledge of financial skills and the real world", "Enterprise day for me was great! It tested my skills that I'll will probably use later in life as well as making it fun with a Dragons den theme. It was hard work, but worth it!".
The winners were Isabelle Beaton, Ella Cooper, Sarah Flanders, Sunnie Morrison, Will Lintott, Dan Smith, Giles Hughes, Mary Cairns, Lea Miller and Lucas Bradshaw.