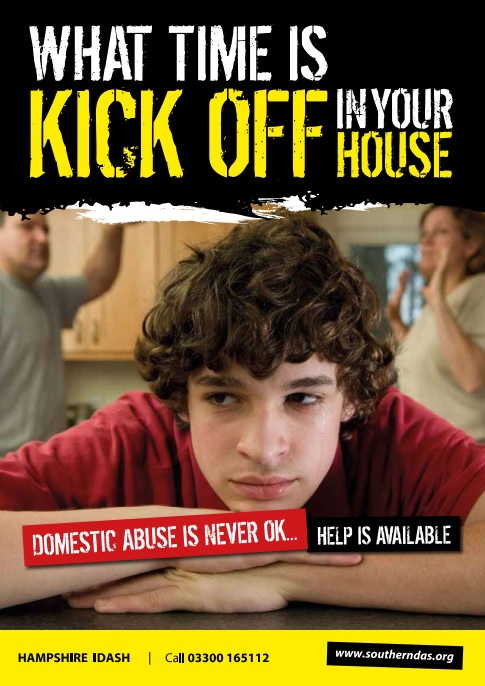 What time is kick off in your house?
Domestic abuse is never ok. Help is available.
Hampshire police have added 'domestic abuse' cars during the World Cup:
https://www.bbc.co.uk/news/uk-england-hampshire-44482340
Visit the Victim Support website for more advice and information:
https://www.victimsupport.org.uk/crime-info/types-crime/domestic-abuse
"We believe that all survivors of domestic abuse should be able to get the support they need to move on from the impact of abuse. We don't just help people who've recently experienced domestic abuse — we're here to support both men and women, weeks, months and years afterwards.
We have different services in different parts of the country. All of our services are confidential, free and available to anyone who's experienced domestic violence. We can help, regardless of whether you've told the police or anyone else about the abuse.
Our IDVA (Independent Domestic Violence Advocates) services are staffed by specialist caseworkers and supported by specialist volunteers. These workers will help you to decide what action you want to take and the support and help that feels right for you. IDVAs often support survivors through the criminal justice system, if you choose to report the crime, and co-ordinate health and support services.
We have domestic abuse outreach services, which are provided by specialist caseworkers and volunteers who will work with you in the community, co-ordinating support and providing direct practical and emotional support. We work from health services, police stations, hospitals and community centres to provide information and support to a wide number of people.
Our victims' service supports anyone affected by any crime. We'll help you decide on the range of support and help that might benefit you."
Southern Domestic Abuse Service run refuges for women & children escaping domestic abuse and offer outreach services to women, children, young people & men who need advice, support & information. Domestic abuse can happen to anyone but is most often experienced by women.  For more information see their website:
http://southerndas.org/
Hampshire County Council provides a confidential help service for women, men, children and young people experiencing domestic abuse in Hampshire:
https://www.hants.gov.uk/socialcareandhealth/adultsocialcare/domesticabuse