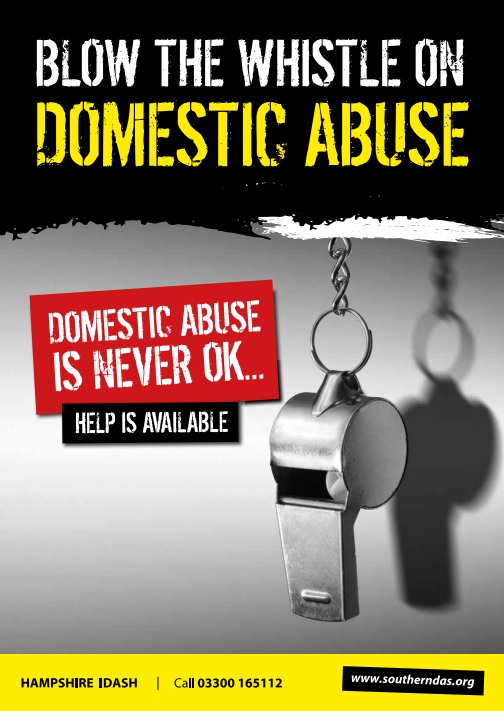 Blow the whistle on domestic abuse.
Domestic abuse is never ok.  Help is available.

Why do we need to consider domestic abuse and the World Cup?
The most detailed research into the links between the football World Cup and domestic abuse rates has revealed that in one police force area in England and Wales, violent incidents increased by 38% when England lost – but also rose by 26% when they won.
The research, by Lancaster University criminologist Dr Stuart Kirby, a former police officer, monitored police reports of domestic abuse during the World Cups in 2002, 2006 and 2010.
While domestic abuse rose after each England game, incidents also increased in frequency at each new tournament, raising fears that the forthcoming competition could see the highest ever World Cup-related rises in domestic abuse across the UK.
Separate national research examining the 2010 World Cup echoed the Kirby findings – with domestic abuse reports up 27.7% when the England team won a game, and 31.5% when they lost.
A Home Office report demonstrated that in 2006 for example, domestic abuse incidents averaged 275 per day in both April and May, and rose to an average of 290 per day in June and July. Only three days over this period had more than 400 domestic violence incidents reported, and it is unlikely to be a coincidence that these were 10 & 11 June (England played Paraguay on 10 June) and 1 July (the day Portugal knocked England out of the World Cup).
In addition:
nearly half (40%) of all suspects in domestic abuse cases were drunk at the time of the crime
reports of domestic abuse increase by nearly a third (30%) on England match days.
It is expected that this will be the case over the period of the World Cup in 2018.  During previous international football tournaments there have been significant
increases in the number of calls to both the Women's Aid 24 Hour helpline and to Police.  One woman detailed her experience at the time:
"My partner used to beat me regularly, but it was always worse when England lost.  He would blame the alcohol and the football.  But I know now it wasn't these things that were to blame.  It was him."
For help/advice see the following links:
Contact the Integrated Domestic Abuse Service for Hampshire – IDASH – (delivered by the YOU Trust and SDAS) on 03300 165 112 or phone the police on 101 (999 in an emergency).  IDASH can provide support and advice to both members of the public and professionals.  They provide crisis accommodation and outreach/support, including some support to children and young people.
For perpetrators of domestic abuse, you can contact the DAPP service: https://www.hamptontrust.org.uk/our-programmes/dapp/ or phone 023 8000 9898.
Alcohol: For free, confidential support around drinking phone 0300 303 3539 or https://www.inclusionhants.org/. for local services.  Inclusion Recovery Hampshire (IRH) is the commissioned provider of alcohol support and treatment.
Southern Domestic Abuse Service: http://southerndas.org/wp-content/uploads/2018/03/SDAS-Leaflet.pdf.